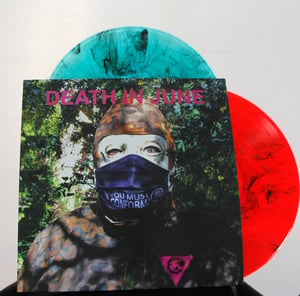 $

49.50
SMOKEY AQUA & SMOKEY RED VINYL, LIMITED TO 333 copies.
First released on CD on December 13, 2022, "NADA-IZED!" is now released on vinyl with seven additional tracks. Spanning 41 years of Death In June's existence, from songs like "Heaven Street" to "The Trigger", "NADA-IZED!" is a selection of tracks that spiritually revisit the group's mid-1980's dalliance with militant electro-dance whilst remaining very much aware of the present. Recorded and produced in separate self-isolation, Douglas P. and Miro Snejdr (Herr Synthwave Himself), have produced these New Play Tunes for New Plague Times.
SIDE A:
A NAUSEA
GOING DARK
THEIR DECEPTION
THE TRIGGER
SIDE B:
THE POLE STAR OF EDEN
GOD A PALE CURSE
WOLF ROSE
HEAVEN STREET
SIDE C:
NO BELIEF
THE MAVERICK CHAMBER
MY LITTLE BLACK ANGEL
LUTHER'S ARMY
LAS­T EUROPA KISS
SIDE D:
BREAK THE BLACK ICE
ALL PIGS MUST DIE
RUNES AND MEN
FALL APART
HAIL! THE WHITE GRAIN
(All songs remixed/recorded 2020-22)
Shipped within US via USPS Media Mail.
Shipped to Canada via USPS First Class.